6 A/C bedrooms; 6 baths, Plus 2 living rooms/kitchen, Book 1 to 6 BHK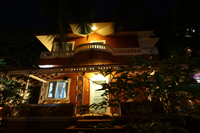 Renovated in November 2013, brand new.
The villa is a ground-plus-one holiday home with Goan-style balcaos (balconies/patio) at the front and the back.
Framed masterpieces of Goa's most famous and cherished artist Mario Miranda dot the walls of every room in the villa.
A caretaker is present. The house has an inverter backup for one lights and fan and in every room.
The villa is an independent private villajust a minutes walk to the beach.
Access
The villa has an entrance from the front and the back. Each bedroom can also be accessed via separate side entrances.